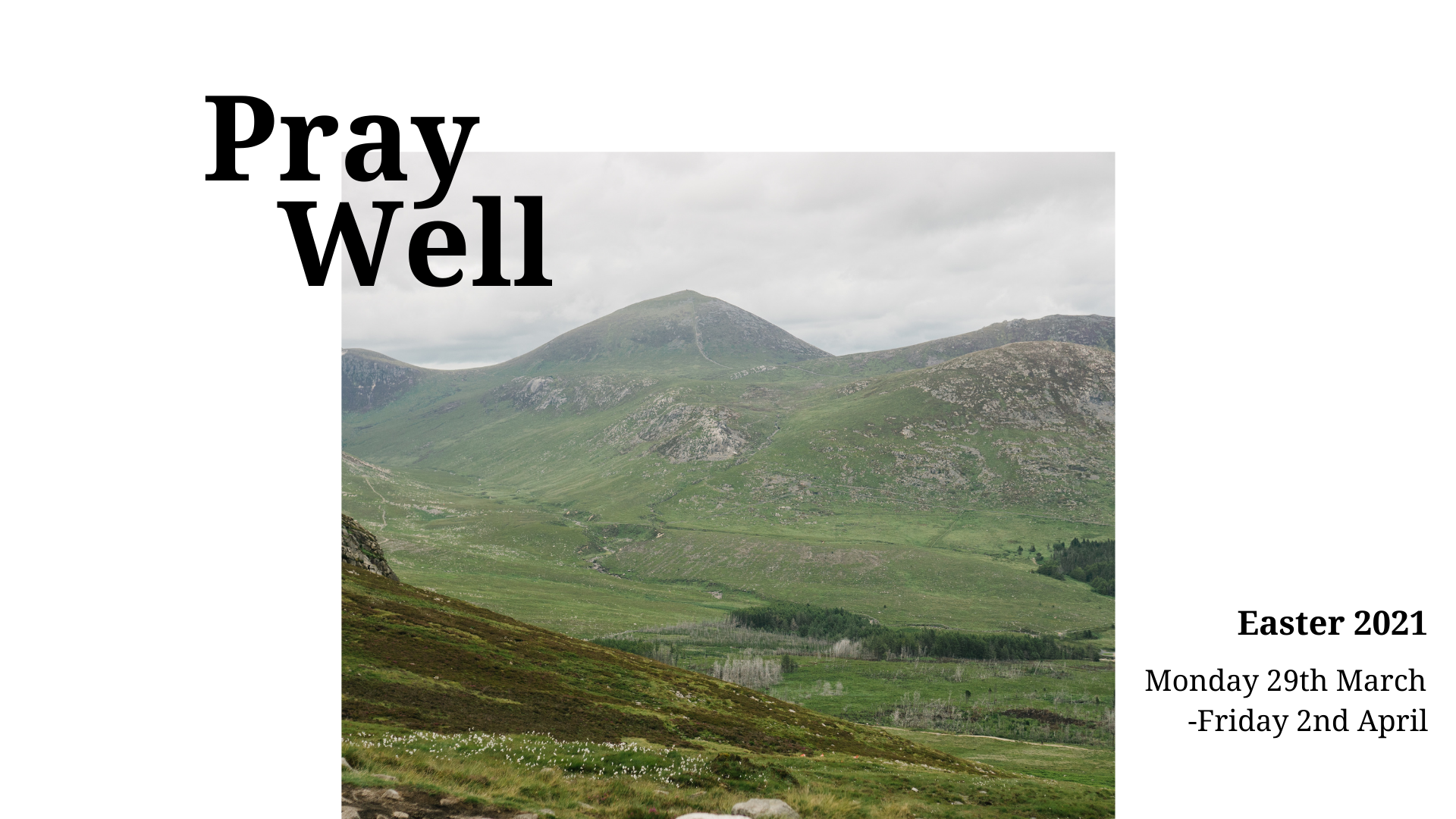 Friday 2nd April
Pray Well for SALVATION
We invite you to read Matthew 27:45-54 or listen:
Throughout our readings this week, we have seen how Jesus makes the way open for people to come near. Today we find ourselves at the foot of the cross, where he dealt with the sin that separated us from God. In those hours of darkness, Jesus' mission was reaching its culmination.
'At that moment the curtain of the temple was torn in two from top to bottom.' (v51)
The barrier between us and God was removed.  The way is open for us to approach God because of Jesus' sacrifice for our sins.
As we praise and thank him for saving us, may we be filled with a fresh passion to tell others about God's great salvation.
Pray for friends, family and neighbours and ask God for opportunities to share the Good News with them.
We also pray today for God's mission that continues all around the world. Some of those we support and for your ongoing prayers are:
The Cousley Family (Mission Aviation Fellowship)
The Cousley family serve with Mission Aviation Fellowship – Julie Anne is the daughter of Roger and Elizabeth Green.
Glenn and Julie Anne have served overseas for many years and are currently in Australia where Glenn is training as an aircraft engineer. Find out more about MAF here
MAF prayer points:
Pray for Arnhem land as they need one or two more pilots. Pray that the right pilots will be able to take on the roles.
Papa New Guinea:  The country is in complete lock down for the next two weeks, no scheduled flight in or even sea freight.  Hospitals have been overwhelmed with Covid cases. Australia has stepped in to help. MAF has volunteered to help fly medical supplies and the vaccine to remote areas. Pray for the whole MAF team in the country to keep them safe.
Timor Leste was basically closed to all foreigners over Christmas and New Year due to Covid.  MAF now has one new pilot family there and another will join them in the next week or so, D.V. Pray that they can have the two planes there flying soon.
Myanmar: Pray for the country at this time after the military coup. On the airstrip that MAF is building in the country, they were told to stop work and one of the main supporters is in hiding. Pray for safety for the country and MAF staff.
Family prayer points
Joshua: Is working on an Avocado farm at present. Pray for safety as he works. To stay on our visa he needs to be enrolled in further studies – he's been looking at distance Ed courses. Pray that he will be able to settle on a course that would help him as he works towards attending Uni. Pray also that a clear pathway would open up for him either here or back in the UK.
Benjamin is in final year at High school.  Pray that he will be able to commit to the necessary work required.
Julie Anne strained her voice about 10 weeks ago – she has been to the doctors and is waiting to see a speech therapist as it has not gotten better. Pray for healing
Glenn – as he studies for a resit in the mornings and works in the hangar in the afternoons. Our work visa is due for renewal in May, however the process has started and it takes up his time as well. Pray for him as he juggles his time.
Thank you for your prayers.
Norman Kennedy (BREAD)
Norman Kennedy serves through BREAD for Kenya.
Please click here for more information about the work of BREAD.
Tim & Lynsey Johnston
Tim and Lynsey Johnston serve in Brazil. Lynsey is the daughter of John and Helen Kinnier.
Little did we realise when we arrived home to Northern Ireland at the end of May 2020, that we would still be anxiously awaiting our return to Brazil, with – as yet – no fixed date on the horizon, at the end of March 2021. It has been a strange and unprecedented time, that has no doubt affected all of our lives, as we have watched this pandemic unfold around the world.
Although we are currently 5,000 miles from our 'home' and ministry, we are extremely grateful that we have been able to maintain consistent contact with those whom we have come to know and love over the last number of years, through WhatsApp messages and regular video calls. Although the UK news channels have given a lot of attention to Brazil over recent months, they have failed to grasp the true desperation and despair of those who are living it every day.
From the abnormally high rate of cases, record-breaking death tolls (over 2,800 per day) and increased problems with mutated strains and re-infections, there are also growing concerns for the economy and infrastructure of this developing nation, as in the 6 years since we left these shores, we have never known things to be as bad as they are now. The exchange rate is almost double what it was 2 years ago, and as the country is so vast, the people depend on long-distance travel to move goods, medicines and more urgently, oxygen, so the recent petrol shortages in every state have caused yet more problems, sparking riots and daily protests, up and down the country.
Taking all of these issues, together with a crippled health system and a consistent lack of access to basic amenities such as food, water and shelter, it is no surprise that the neediest of society are being hit the hardest, literally living hand-to-mouth. The people we work closest with, have already suffered greatly from long-term addiction, gang violence, childhood trauma, homelessness, and family abandonment, so we are almost overwhelmed by the daily updates, reporting that the situation is increasingly unbearable, with the country more or less on the brink of collapse.
Undoubtedly, there has been a falling away of those who were going on strongly, both with their rehabilitation and their walk with the Lord. Sadly, many use the pull of drugs as a means to escape this dark and seemingly endless reality, as a quick and familiar way of coping with their situation, and we are very concerned about our dear friends and their families.
In all of this however, we are truly thankful for the invitation to partake in the Week of Prayer, to share with you all, the burden that has been on our hearts for some time now. This opportunity is one of many encouragements that the Lord has blessed us with in the time that we have been at home, and we have been consistently comforted by your interest and concern for our ministry. Not only has the Lord met every need since our quick and unexpected return last year, but He has assured us that we will soon be reunited with our Brazilian brothers, who we have missed so much.
In the meantime, we would ask you to please remember this needy and struggling country in your prayers. We would also ask you to remember the families of the men we work with, who are often the forgotten and silent victims of addiction, especially during this pandemic, where their suffering is already compounded with so much uncertainty regarding the future. Please also pray that a door will open soon for us, so that we can return to Brazil at the right time, but that we will wait on the Lord's timing and not rely on our own wisdom and initiative. Thank you for standing with us and for your love and care. There just aren't enough words to convey just how much this means to us both.
Sergey & Julia Perevishko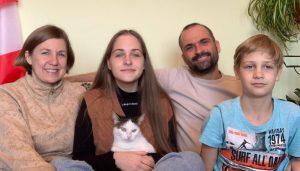 Sergey and Julia were sponsored by our church to study in Belfast Bible College, 23 years ago. We still partner in their ministry in Ukraine. They serve God in a town called Irpen, not far from Kiev, where Sergey is one of the pastors in the Baptist church. Both Sergey and Julia teach English privately to provide an income. They have 2 children, Sofia who is 17 and Kostya is 12.
Give thanks that Sofia is recovering from surgery to her hand, after months of difficulty
"Now there is just a little scar left after an operation and we can breathe out with a relief but when from Dec to Feb we visited one doctor after another (Sophia has counted more than 10 doctors) we had different tests and diagnoses and none of the doctors were sure what was the reason for the pain and problem our daughter Sophia had with her hand. At that time, we felt your love and prayers as never before. We appreciated your prayers and support a lot.
For us it is a real privilege to share our prayer requests with you. We would love you to intercede for our family that we would grow spiritually in our knowledge of God, in obedience to Him, that we would be submissive to His guidance and His wisdom would fill our hearts and minds. Biblical counselling, pastoral care and the other ministry duties that I am responsible for in Irpen Bible Church cannot be fulfilled without God's power and His Spirit. So please pray for us."
Steven & Courtney Lamont
Steven Lamont grew up in Wellington and has served in South Africa since 2016 – now married to Courtney.
Hi everyone, it is so good to be able to share with you all about what God has been doing in our lives over the past few months.
Covid has been playing a big part in everyone's lives, but we in South Africa have been blessed in that majority of our lockdown regulations have been lifted.
Courtney is back in school full time from the beginning of February and has a new Grade 1 class which she really loves. She is blessed to be able to share Jesus in her classroom with her kids and takes the opportunity daily to pray with her children as they start the school day.
As the regulations were lifted, we took the opportunity to re-open church and get back into church life. We have recommenced our Sunday services with a maximum of 65 people per service, due to size of the building, but it has been great to be able to join together as the body of Christ together for public worship. I have been blessed to have the opportunity to be preaching within the church once or twice a month.
We still are providing online services for those who are still worried about gathering and I have taken on the role as video guy and editor. Thanks to Wellington I feel I have a better understanding of what goes into putting a service together on a weekly basis.
We started Youth again in February and it has been so great to see the young people come back again after the school holidays. We have been encouraging the junior youth in their Identity in Christ and how He can use us even when we are small. With the senior youth we are in a season of growth in our walk with God. We have been calling the young people to grow more in faith and dependency on God. We have been averaging 30 young people in each group which has been awesome for the church.
We have re-started our bible study with eight young people, and we are meeting twice a month; currently we are going through the book of Acts. It has been so good to discuss the passage together with the young people as I lead them through the Word of God.
This year, Courtney and I are starting to build community with others, something which had been a challenge for me over the last few years in East London. It has been a real blessing that God has brought the right people into our lives at the right time.
Please pray for:
new mission projects that Courtney and I can get involved in.
the young people we get to speak to that they may grow deeper with Christ.
our family both here in South Africa and in the UK; distance can be difficult at times.
our health to stay good.
my Visa which is due for renewal in November, so I am beginning the process within the next month.
for our December trip back to the UK (if we are permitted to travel from South Africa).
Metka & Goran Macura
Metka & Goran are in the process of setting up a new church plant in Slovenia.  Here's an update from them:
Veronica & Ghassan Haber
If you tuned in to our live prayer time on Wednesday evening you will have seen part of a chat between Toni Bassett & Veronica Haber – if you would like to watch the full interview please find it below:
LISTEN to or sing a song of worship to help you focus on God and become aware of his presence with you. If you don't have one in mind, here is a suggestion: King of Kings by Hillsong.
'Surely he was the Son of God!'
Matthew 27:54
We would love you to get in touch with us to let us know how you have seen God at work in your life or if there is anything you would appreciate prayer for.  Please let us know using the form below.